After our adventures in the mines we wandered around Potosi a little. I decided it looked a little like Salta in the center (colonial architecture...) and a dump outside the center. We continued our city hopping and arrived in Uyuni on the afternoon of the 24th of March. We paid a little too much for a three day Salt Flats tour, got a good nights sleep and were ready the next day for our adventures through the South of Bolivia (see map below to orient yourself!)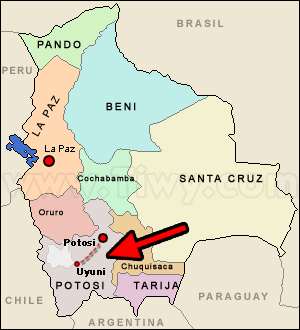 Day one:
We met our group - A warning to all those who head to Uyuni and Bolivia in general. Everyone is trying to cheat you out of your money! When we booked our tour it was late and we were ready to sign up with Laura Travels just so we didn´t waste the next day. She still felt the need to lie to us about a number of things including the fact that there was already a British couple signed up for the trip (she even gave us their ages) who had supposedly paid way more than we did. When we squeezed into our jeep the next morning we met our group members: two Argentine couples (one from provincia de BA and one from La Plata) and a French 19 year old girl traveling alone. We of course were thrilled to be with Argentines, to play truco, and to drink mate but laughed that Laura had thought we would be lured by this British couple who we didn´t want to hang out with anyway!
After introductions were made we drove to the Train Graveyard with our guide/driver Victor. Unlike the many young drivers in the caravan, Victor was old and leathery with few remaining teeth possibly due to his incesant coca leaf chewing. He´s a 64 year old widow with most of his kids living in BA and he is native to Villazon, where we entered the country. He was an amazing driver but more on that later.
A train line goes through Uyuni and here is where the old train parts go to rest in peace:
We then headed to a place where you could buy stuff, but the cool part about it was that all the buildings were constructed of blocks made entirely of salt!
Then we headed to the blindingly white Salt Flats. The salt dessert is all that remains of a pre-historic Salt Lake. The salt is harvested but there is so much that I can never imagine them running out. Its so flat and white that its famous for poeple taking realy silly photos taking advantage of the easily distorted perspective like this one:
but we opted against these and Josh went for yoga poses instead...
King and Queen of the Salt Flats
We then headed to an island in the middle of the dessert that is inhabited by a lone ostritch and cacti. I believe the island was underwater at one point because there is an ancient arch of dead coral, but there is also a 900 year old living cacuts and another that died but at one point was over 12 meters tall!!
That night we slept in a hotel made of salt which was kinda weird becuase it smelled like salt and the floor was made of loose crystals of salt and it really was less romantic that it had sounded. Around the time that we had watched an amazing sunset of the flat horizon over the salt flats I started to feel pretty sick from the altitude and had a restless night battleing a weird feeling stomach plagued by nausa.
The next day we set out and saw many of the shrinking lagoons whose inhabitants are flamingos that slowly walk around dipping their beaks into the water in search of micro organisms for a tasty snack.
We also saw amazing rock formations carved by the wind like the one below. Pretty much everywhere we drove was at one point under an ancient sea, so there is sand everywhere and intense rocks made of sand stone that have stood the tests of time. The one below is called the tree rock. I was feeling to ill to climb all over the other rock formations like many tourists but hopped out for this picture and then took refuge from the strong incessant winds in the jeep.
As we drove the landscape became increasingly stranger and stranger. There are round patches of pure fine sand in the middle of the landcape that Victor said were dried lagoons, and amazingly much of the landcape looks like Bolivia´s flag: red, yellow and green. There are quinua plants everywhere (a native plant to Boliva similar to rice) that are grean but they turn yellow and red as they mature. The moutnains are also red and have green and yellow bushes growing on them. The effect is stunning.
tree rock
That evening we arrived at our lodgings for the night. I was feeling pretty weak from the altitude and from my every more empty stomach that still couldn´t handle eating but I walked to the Lago Colorado anyway. Due to high winds it was not red but still beautiful and full of flamengos as well.
We walked all around the area and saw steam shooting out of the ground at 200 degrees celcius, and we also carefully walked over volcanic ash to get a rare peak inside the earth. There were holes in the ground covered in steam and when the steam cleared away you could literally see the earth bubbling below. Grey water bubbled away in the morning light and we left our footprints behind on the soft ashy ground with this image of earth´s natural power burned into my memory forever.
We then headed to some natural thermal baths where we ran with frozen feet to the hot water that at first burned and then soothed our goosebumby skin in the early morning chill.
I´d like to start everday in a thermal bath...
Josh has the rest of the photos for the day, but the landscape got increasingly wierder as we headed back to town. Over then eight hours or so of our return journey the landscape went from dessert to trippy mountains that looked for sure like they were from another planet, to greener wetter paths and through small towns that stood in the shadows of large rock formations and green mountains. We also passed this donkey mummy:
Our friend Andres from Colombia has always wanted us all to take a trip to Uyuni together where he planned for us all to drop acid and marvel at the natural wonders of the earth. I got the front seat for a leg of the journey, and mind altering potions were not necessary. The mountains seemed to breath in and out, the landscape was trippy enough on its own. We passed the Salvador Dali mountain with flat fine sands and big lonley rocks that indeed did seem to be inspiration for many of his landscapes and backgrounds for dripping clocks. And if someone had blindfolded me, and dropped me off in the middle of this place, I indeed would have believed them if they told me we were now on a different planet. It was amazing...
While we were unhappy that we had been ripped off and hardly any of the promises our tour company had made had been kept in terms of drinks and lodgings, we do not regret spending three days in this strange strange place. The looming volcanoes, gysers, mountains, deserts, and the never ending white salt dessert are some of the most incredible sights I´ve ever seen in the natural world. If you are headed there, just know that all tours are exactly the same no matter which company you use so don´t pay extra!!!!! Its also a great place to loose any left over weight from asados in Argenina. At our highest point (the green lagoon) we were well over 4000 meters and when we got back to Uyuni I had lost any beer gut or beef belly I had picked up over the past year. Not to mention the fact that after Bolivia you will feel amazing anywhere you go!