At the Manu Chao concert shirts and baby sitters were optional and the only beverage available was coke. There signature dance move consists of three steps backwards and three forward. Every seat was a good one, and every member of the band was at least twice my age with three times my energy level. A month ago I had never heard of him and today I think he is one of the coolest people I've ever been in the same room with.
For those of you who have never heard of him or don't know much, a few words on the man himself (you can listen to one of his most famous songs while reading about him!):
Born in France in 1961 after his parents fled the dictatorship in Spain to save his Grandfather from a death sentence, Chao grew up around artists and intellectuals in a suburb of Paris. Many of these childhood influences would later become influences for his music. He formed two bands before going solo called Hot Pants and Mano Negro. They achieved success in Europe and South America with some cool tours. One tour was a port tour where they traveled and performed on a boat. The other was done with a retired train. He went solo with his band the Radio Bemba Sound System, and toured Central and South America recording songs as they went in order to replicate the sounds of the street in different cultures. Most of these songs were sung in Spanish instead of French and this is where his music also truly transformed from punk to street vibe. He is also an activist.
Truly a rock star, this man sings in more than three languages and keeps the crowd going for three hours at a time. Consequentially he also has a rocking body.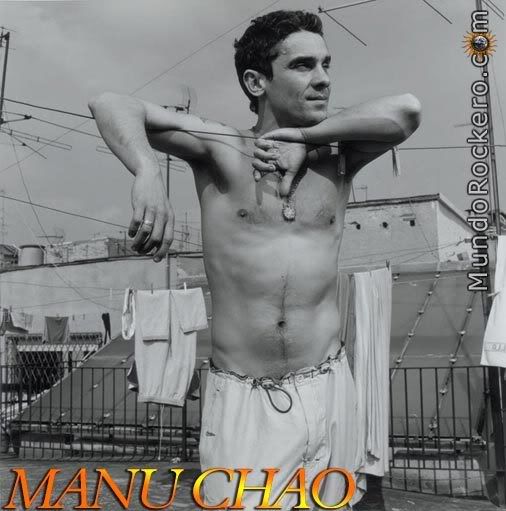 By the time I heard about the man and the show, the first show was sold out. Two more dates were added and Ted bought us our 74 peso campo tickets (general admission) and him, Jessica, Jeremy, his friend from home and myself were all set.
Unfortunately I was a bit tired for the whole show. Friday night we had a crazy party and while I was decidedly the only sober person by the end of the night, I also went to bed at 6:30 after having woken up at 7 am that day. I slept till 1:30 and then after some Chinese food Jessica and I headed for Frisbee. We only played for an hour (Cadillacs won against Big Red for the first time!!) and then headed home for dinner on the roof, a few Calimoches, and then set out for my first experience in
Luna Park
.
The venue is one of the best I've been too. Its big enough to play a big show, no matter where you stand you have a good view. We were stage left, but the floor was at an angle, so I had a great view of the show and avoided getting beat up by the drunk masses in the middle who had probably been there hours in advance to get a good spot. Now those were the real fans. Once girl was hoisted up by her friends during the show (as were many) and took it to the next level by dropping her skirt to reveal boxers. Very strange, not very sexy, but maybe she knows something I don't about Manu?
In front of us were two couples who had obviously come together. They were older, maybe in their late 30's and each had brought something special. One couple had brought a few joints, and the other their 4 year old child. I'm not sure what people here have against baby sitters, but this kid stayed up with his parents till midnight rocking out to Manu Chao. At first he looked miserable, but after a few sips of coke he perked up, shed his shirt with the rest of the guys in the place and rocked it with his parents. Children happen, and its no reason to not see Manu.
A word on shirts in this place. They are almost always optional. The farmers tan doesn't exist here because every time a man gets the slightest bit hot or enters a sunny place, there goes his shirt!! If you care to look back to the Carnival post you will notice our guys took advantage of this practice, and even after we went to a bar Josh asked me, "Do you think its OK that I keep my shirt off?" and immediately answered his own question after seeing a table full of shirtless men next to us. Well last night was no exception. It was hot, and by the end of the show only two men on stage had shirts on (at the start all but one were clothed) and throughout the show guys in the audience took off their shirts and threw them at Manu Chao on stage. If he caught a shirt he would generally sling it over his shoulder for a time until it fell off. At one time he had 4 or 5 slung around him.
The band consisted of Manu, his guitarist (however Manu played guitar all night as well), a bass player, a standing drummer, a seated drummer, a grey afro haired keyboardist who rocked it, and a trumpet player. They were casual, some even in gym shorts or pants, and I've never seen a more talented group rock so hard. They were having the time of their lives, and in typical Argentine fashion they never wanted the party to end. There were four encores, and for the last one they brought their whole crew on stage and there was a big dance party. By the end I was exhausted and worried he would play for a fourth hour, but we danced and sang along till 12:30. We were kind of in the lame section of stoners, but used the space around us to dance and to match the buena honda on stage in our own section until it was over and we could barely walk home.
One of the best parts of the show was when the guitarist traded in his electric guitar for a classical one. Watch this because I'm not sure my words would ever do it justice:
As you can see, it was kind of ridiculous. This band was truly about the music, and the politics of course. They had a "poet" come on stage a few times who spoke to the crowd as Manu played in the background. The second time he took the stage he spoke about our president, Senior Obama. He said something about how he was watching us, well I'm not exactly sure, but I'm pretty sure it was positive. What a departure from my last international concert. The last time I saw a show abroad was in Berlin at the
Berlin Insane
festival. There, in one of my favorite shows of the night I was traumatized by the video in the background. As Germans cheered and screamed the video showed a cartoon of tanks blowing up the White House, and the White House going up in flames over and over again. At the time I was obviously a few beers in a so a little more reactionary, but I remember being more than a little upset about it. How incredible that in one night the image of our government has so changed. A girl from the US I recently met here that works for Casoc as well said she wanted to stop telling people she was from the States and instead say Canada. I was so surprised! While I had echoed this sentiment half jokingly 2 years before, I have the opposite feeling here now. I am so proud to tell people where I am from (part of that is that people don't say "ew" when I mention New Jersey). While evil President Bush is viewed abroad as the monster he really was, I feel that this is no longer being held against us.
I digress...
The concert was wild, and a great time. Afterwards Ted, Jess and I walked the short distance to the river to get empanadas, some Pasa del Toro (the best grapefuit flavored soda ever!!) and some agua and we sat infront of the dikes of
Peurto Madero
talking about how amazing the show was and refreshing ourselves for the long walk home.
(just found this amazing Pasa del Toro commercial):
We arrived home exhausted and I passed out pretty immediately around 2:30 for my earliest Saturday yet in Buenos Aires.